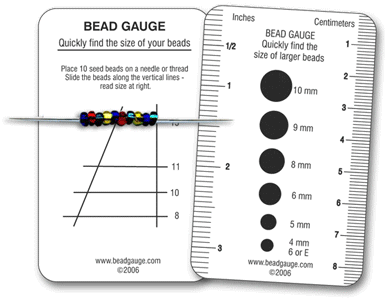 Here it is! $4.00
The answer to your bead measuring problems - The Bead Gauge.
A sturdy white plastic card with seed bead gauge on one side and rulers and mm dots for sizing larger beads on the other side.
Have you:
Purchased beads on sale and then wondered just what size they are? Use the Bead Gauge.

Organized your beads into sizes, pulled some together for a project and now you want to put the extra ones back into the correct size bin? Use the Bead Gauge.
Using the Bead Gauge:
<![if !supportLists]>1. <![endif]>Put 10 seed beads on your needle (or on thread).
<![if !supportLists]>2. <![endif]>Slide the needle up/down the bead gauge - where the 10 beads fit between the vertical lines, read the seed bead size on the right.
Now you know for sure what size your beads are!